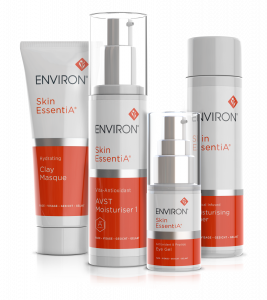 We have worked with Environ products for a number of years now as we can't find anything else that comes close, and we are particular !! Not only do we love their products, we use them ourselves and we LOVE that they are not tested on animals. They are tested on human volunteers including their founder and directors!
The Environ range is suitable for everyone as it features the most effective ingredients to normalise and protect your skin. It offers a mix of salon treatments and homeware products all developed by leading  South African plastic surgeon, Dr. Des Fernandes and will counter the ageing and damaging effects of the environment.
All the Environ products have been formulated to rejuvenate the skin by replenishing depleted Vitamin A, quenching free radicals with vitamins C, E, beta-carotene which help neutralise the effects of UV radiation, pollution, smoking and stress. These formulations are aimed to benefit those who want to maintain healthy, youthful skin, as well as those with sun-damaged, pigmented, scarred and problem skin.
The products are so well respected that they have developed their own a celebrity following. Environ fans include Elle Macpherson, Sienna Miller, Claudia Winkleman, Jaime Murray, Lynda Bellingham to name a few.
To find out more about this range click here. or call us on 07830108638for an introductory consultation.